Deadshirt Is Watching…is a weekly feature in which Deadshirt staff, contributors, and guests sound off on the television shows we're tuned into, from intense dramas to clever sitcoms to the most insane reality shows (or, in the case of this week, only insane reality shows). 
Max Robinson is watching…
Tim & Eric's Bedtime Stories
Season 1, Episode 1, "Hole"
Despite being heavily involved in a number of Adult Swim shows and a feature film, Tim & Eric's Bedtime Stories marks the "official" return of the comedy duo to Cartoon Network's after-dark programming block since Tim & Eric Awesome Show, Great Job! ended its run in 2010. In interviews, Wareheim and Heidecker suggested that Tim & Eric's Bedtime Stories was something unlike their previous television efforts, which tend to utilize a "crappy public access show" aesthetic. With the first official episode of Bedtime Stories, "Hole", the show seems to be their foray into more conventional horror.
The thing that really stood out about the most recent season of the Tim & Eric-produced/created Check It Out! With Dr. Steve Brule was the show's background horror elements. Bedtime Stories takes this a step further with "Hole," which feels like a Night Gallery vignette fermented in malt liquor. Wareheim plays new-to-the-neighborhood "IT guy" Dennis, who is bullied by his aggressive neighbor Brenner (Heidecker) about his refusal to attend "Guys' Night" in his basement man-cave. "Hole" opts for humor grounded in the weirdness of Dennis and Brenner's interactions and operates on a kind of nightmare logic; Brenner's campaign of intimidation includes smashing in Dennis' windshield, cutting down a tree in his front yard and showing him his own grave.
When Dennis finally relents and attends "Guys' Night," things get even more horrifying. Heidecker's ability to play the alpha-male asshole neighbor really shined in the final season of Eastbound and Down and it's even better here. He nails the little nuances of everyday toxic masculinity. "Hole" demonstrates that Tim & Eric can spread their wings a bit and accomplish something very funny and creepy in Bedtime Stories' more-focused 15 minute episode format that ditches short skits and fake commercials for a single continuous plot.
Episode Highlight: Heidecker breathlessly throwing in as many dudebro buzzwords as he possibly can in his initial "Guys' Night" invitation, and his unnerving refusal to take no for an answer, are just about the perfect tone-setting you can ask for.
Tim and Eric's Bedtime Stories is on Adult Swim Thursdays at 12:15am (so Fridays, really.) 
Madie Coe is watching…
New Girl, Fox
Season 4, Episode 1: "The Last Wedding"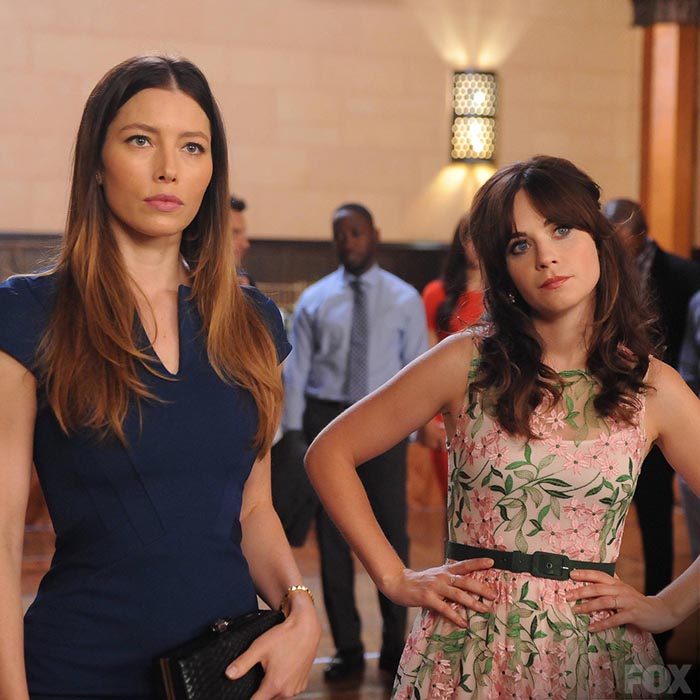 Jess and the boys make a pact to all get laid at the last wedding they are invited to as a group. Spoiler: no one succeeds (not even Coach!), but no one goes home alone either.
Jessica Biel makes a frightening and pretentious cameo as Jess's nemesis for the attentions of the best man (AKA the "wedding celebrity") played by Reid Scott. Biel's hyper-competitive Kat is bold and accomplished, but is pushed to the limits of strategy when confronted by Jess's superior strategy: a combination of being herself and a tactic known as "The Biden," where you get credit just for constantly being present. Their polite catfight ends when the best man is confronted and anti-climactically can't make up his mind between his female pursuants. The two ladies have great comedic chemistry, and I can only hope that Biel will return for a rematch in later episodes.
Nick and Schmidt almost get into a foursome, but more importantly Nick and Jess share a cathartic moment in the men's bathroom that doesn't feel forced or awkward like the way that things fell apart in Season Three. If they're going to be friends and roommates, then the break-up arc needs to be done with. Schmidt is prevented from being a total weirdo in regards to Cece, leading me to believe that a reunion between the two will be forthcoming as they are both maturing as people and approaching a point where they are ready to be with each other.
Winston is a condiment used sparingly in the premiere, which is good, because things were starting to get out of hand. Winston is the Jack Sparrow/Brittany S. Pierce of New Girl. He is essentially cilantro, delightful when sprinkled on top of a well put-together dish, but overkill when used liberally.
The ending scene back in the apartment really nails the feeling of comfort with the show as an ensemble comedy, as the gang tosses future wedding invites in the trash and the camera pans out from overhead to the sounds of Bleachers' "I Wanna Get Better." Season Four, we have been waiting to hang out with you.
Episode Highlight: According to Jess, all five of them united in their hook-up front makes for one big "sex fist."
New Girl airs on Fox at 9/8c on Tuesdays. 
Haley Winters is watching…
The Mindy Project
Season 3, Episode 1: "We're a Couple Now, Haters!"

Look, it took me a while to get aboard the Mindy bandwagon, too. The bulk of the first season was cloying and not quite funny enough, and it was oddly confusing trying to tell all the brown-haired white men apart. But at this point, if you're still anti-Mindy Project, you're on my shit list, buddy. Forget Girls' Lena Dunham: Mindy Kaling is the voice of our generation of women. You want to call her a basic bitch, fine, but guess what–basic bitches rule the world, and the TV remotes. I'd rather listen to Mindy dish about Real Housewives and drool over hot men than watch Lena's self-deprecating depression humor any day because ultimately, even though I relate to both these women's humor, it's Mindy who really gets me. Mindy doesn't judge me for watching too much reality TV. Mindy doesn't care if I've never done any of the "cool" drugs. Mindy would let me tune to the Broadway channel on SiriusXM, and would even argue with me about which von Trapp kid was the hottest (I say Marta; she says Friedrich).
But I'm getting a little abstract here. "We're a Couple Now, Haters!" is the premiere of Season Three of Mindy, and it is a prime piece of television comedy. The show's challenge will be keeping Mindy and Danny's relationship fresh and funny now that they've finally gotten together. TMP follows up last season's near-perfect finale with an episode that highlights the best of its leading couple, and both furthers their relationship while allowing it to retain a little tension. The revelation that Danny stripped to put himself through med school (and let "Diamond Danny" forever remain his nickname) went beyond the (hilariously) clichéd to allow some real insight into Danny's character, for the audience as much as for Mindy. A guest turn by Rob McElhenny was odd but no less funny, and Tamra (Xosha Roquemore) holds her place as Mindy's unlikeliest treat. The ebullient Adam Pally remains my one true love of the small screen, although please note that Ike Barinholtz is looking very handsome these days. The entire episode crackled with enough wit and one-liners to warrant a second viewing just to catch them all. All said, "We're a Couple Now, Haters!" currently holds my number one slot for best premiere episode of the fall season. Bring it on, haters.
Episode Highlight: "It's okay to still have stuff from your exes! I have a box of my ex-boyfriend's hair. But I just keep it for curses."
You can watch The Mindy Project on Fox Tuesdays at 9:30/8:30c.