Deadshirt Is Watching…is a weekly feature in which Deadshirt staff, contributors, and guests sound off on the television shows we're tuned into, from intense dramas to clever sitcoms to the most insane reality shows.
Marvel's Agents of S.H.I.E.L.D., ABC
Season 2, Episode 1: "Shadows"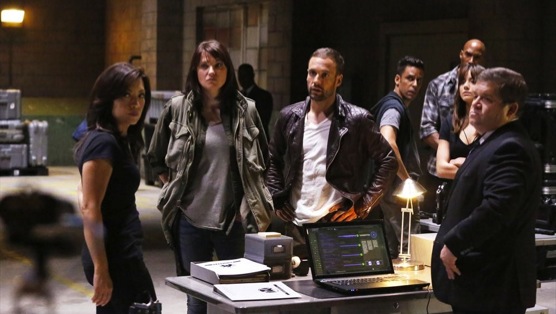 Cinematic powerhouse Marvel Studios' first foray into television had a really rough start last year, suffering from uninteresting lead characters, poor writing, low stakes, and an obvious hesitation to mine the Marvel Comics universe for inspiration. The final eight episodes of Season One were a dramatic improvement, but the excitement and tension were tied directly into the events of the year's best action movie, Captain America: The Winter Soldier. S.H.I.E.L.D. hadn't yet proven that it could be an outstanding show on its own.
Those days may be over. "Shadows" delivered exactly the statement this show needed to make with its second season opener. The new status quo, with newly-promoted Director Phil Coulson (Clark Gregg) trying to rebuild the agency from the ground up while he and the rest of the former S.H.I.E.L.D. are wanted for treason against the US government, is ably set up. New characters are introduced, including Agent Isabelle Hartley, (Lucy Fucking Lawless) who is already pretty damn cool (highlight for spoilers: but is apparently DEAD ALREADY? Party foul, Marvel.). Returning characters, particularly the formerly insufferable Leo Fitz (Iain De Caestecker), are evolving in some interesting directions. The action, particularly the scenes with new baddie Carl "Absorbing Man" Creel, is particularly on point, with fast pacing and quality effects. It's a truly tense hour of television.
S.H.I.E.L.D.'s new direction is instantly more compelling than its original premise, which followed a small team in the massive, well-equipped, nigh-unstoppable global police organization behind the Avengers. Now that S.H.I.E.L.D. has collapsed, our leads are all that's left, there's a lot more tension. It's much easier to root for the scrappy insurgency than the smug Men In Black. S.H.I.E.L.D. is also starting to build a mythology of its own, branching from existing movie and comics lore but not leaning too heavily on it. "Shadows" opened with a teaser set in 1945 featuring Captain America: The First Avenger's Agent Peggy Carter (Hayley Atwell, who will be reprising the role in her own miniseries next year) and two Howling Commandos, but it's a prologue to this story, not an epilogue to the movie. It's exactly the right amount of Marvel Universe connection, and makes the show feel like it's a crucial part of something bigger.
Episode Highlight: The final ten minutes of the episode feature a ton of killer twists that I will not spoil for you. Suffice it to say that you'll be throwing your hands in the air and screaming "WHAT? NOOOO!" when the episode is over. Next week can't come fast enough.
Marvel's Agents of S.H.I.E.L.D. airs Tuesdays at 9/8c on ABC.
Sleepy Hollow, FOX
Season 2, Episode 1: "This is War"
Sleepy Hollow is back, and it continues to be one of the most ridiculous shows on TV, as well as one of the most fun. Almost no momentum has been lost since last season's finale, and this episode features, in no particular order:
        Naked Benjamin Franklin
        Consecrated rounds of ammunition
        A key to Purgatory
        John Cho
And more. It's packed with staples of the series, from various surprise reveals to effective action and CG work to the hallmark chemistry and banter between Abbie and Ichabod. The episode is built around a couple of twists that some people might have thought were cheap, but I thought it was a solid way to sell new viewers immediately on the dual protagonists. There are still multiple cliffhangers from the finale that haven't been resolved, and I'm interested to see how the status quo has shifted this season.
Episode Highlight: Um, all of it? Seriously, every five or so minutes the show topped itself. If I have to pick, I'd go with either the flashbacks to Ichabod as Benjamin Franklin's long-suffering assistant, or Ichabod attempting to drive, which was a nice injection of humor into a tense scene. In terms of pure coolness alone, though, I loved the final scene, with Moloch and the Horseman of War.
Sleepy Hollow airs Mondays at 9/8c on FOX.
Saturday Night Live, NBC
Season 40, Episode 1: Host Chris Pratt, musical guest Ariana Grande
Oh, SNL. I will always root for you with all my heart, like a parent at Little League game whose kid keeps ducking away from the pitch. I want you to hit that ball so badly, SNL. But with this season's premiere, you barely stepped up to the plate.
If I were to give a blanket critique to this week's sketches, it would be that they were unfinished. It felt as though a dozen sketch ideas had been hatched, but no one got around to writing the endings to them. The result was messy, weird, and most unfortunately, not funny. The premises were promising enough: a lonely boy's He-Man and Lion-O action figures come to life, but as brainless idiots, a man and a woman at a bar strike up a flirtation using only booty-centric rap lyrics, a video game focus group is subjected to an over-sexualized puzzle game. But they ultimately lacked direction, in any sense of the word–at points characters were walking in and out of scenes with no exposition or explanation, and the big laughs fizzled out after the opening punchlines. The most solid sketches were pre-taped, most notably a pretty great faux-Marvel movie trailer. But the live stuff, the heart and soul of SNL, stayed flat. Chris Pratt did a fine job as host, using his goofy charm and boy-next-door charisma to great effect, but none of the material he was given was half as funny as he was.
The musical guest provided no relief; Ariana Grande was painfully bland. Sporting cat ears over her signature ponytail, she bopped and strutted through two of her hits with all the personality of an unprogrammed fembot. Given the chance to show off a subtler side of her uber-talented voice with a stripped-down start to "Break Free," Ariana instead ran harder than Xtina, and the result was a mixture of unnappealing overconfidence and trying way too hard. SNL's notoriously poor sound engineering did nothing to help matters, either.
I'm not too hung up on this episode's failures, though. It must be remembered that SNL is faced with a particularly fresh cast and crew, as the last of the last generation's greats have departed onto bigger and often better things. Keenan Thompson, the last remaining big gun, seems tired and uninterested. Taran Killam, now in his fourth season, carries the bulk of the comedy, and is unfailingly impressive in his transformative abilities (one might call him the male Kristen Wiig). While the four women of the repertory cast remain strong, Nasim Pedrad is sorely missed. We've been given in turn the hugely talented Michael Che, who stumbled through his first stint on Weekend Update but whom I have great faith in, and Pete Davidson, the "resident young person." (He's the first SNL cast member born in the 90s.) With an ensemble so green, it is unsurprising that they have yet to find their footing. A few more weeks of the breakneck SNL pace will surely, hopefully, bring us the punch and focus we've come to expect from this landmark show.
Episode Highlight: Pete Davidson's introductory stint on Weekend Update on the economics of straight guys giving blowjobs was genuinely hilarious, and the guy is downright adorable. "I would [give a blowjob] for $3,000 if I had to be honest with myself. Even if I was doing well. Like, even if I was on a boat, and it was my boat, I'd still do it. A boat needs fuel. A lot of people don't realize that. They just get a boat, and they're in the middle of the ocean with no fuel, and they're like, 'Ah, I wish I went down on that guy.'"
Saturday Night Live airs Saturdays at 11:30/10:30c on NBC.
That's what we've been watching this week. What are you tuned into? Let us know in the comments, post on our Facebook page, or tweet us @DeadshirtDotNet!