Deadshirt Is Watching…is a weekly feature in which Deadshirt staff, contributors, and guests sound off on the television shows we're tuned into, from intense dramas to clever sitcoms to the most insane reality shows. This week, it's The League, American Horror Story: Freak Show, and Are You the One? 
Joe Stando is watching…
American Horror Story: Freak Show, FX
Episode 1, "Monsters Among Us"
Wednesdays, 10PM EST 
American Horror Story is back, with all the good and bad that goes along with it. Last season's Coven was the first time I felt even moderately engaged with an incarnation of the anthology series, so I tuned in to the latest premiere to see if it was a sea change or just an outlier. So far, it's hard to tell. There's a lot going on in the new season, but the main focus is on Bette and Dot Tattler (Sarah Paulson), conjoined twins recruited into Fräulein Elsa's Cabinet of Curiosities, a freak show run by German expatriate Elsa Mars (Jessica Lange). Paulson is phenomenal both as naïve, sweet Bette and cynical Dot, and they provide a good viewpoint into the various members of the carnival. A lot of characters are introduced very quickly, with more coming next week, so we don't get to spend much time with them individually, but there's a lot of promise. There's also a murderous clown named Twisty (John Carroll Lynch) stalking around, but his connection and relationship to the freak show is unclear so far.
Thematically, Freak Show owes a lot to the 1932 cult movie Freaks, and other "who's the real monster?" stories. It's also interesting because so far it contains minimal supernatural elements (Bette and Dot can communicate telepathically with one another, but that seems to be it), focusing instead on a more grounded period piece narrative. Of course, being AHS, there's already a good deal of lurid, exploitative violence and sex, including implied drugged sexual assault. The showrunners definitely know that their audience tunes in for trashy, extreme voyeurism and thrills, but the repeated reliance on rape as a plot point is one of the things that keeps me from going all-in as a fan of the series. Still, I was suitably engaged by the first episode, so hopefully this season continues in kind.
Episode highlight: All of Paulson's scenes are well-framed and shot, and her performances are striking. Still, in terms of sheer on-brand perfection, I have to give it to an introductory scene with Jimmy Darling (Evan Peters), the "Lobster Boy" who uses his uniquely shaped fingers to service women at a Tupperware party. Love it or hate it, but American Horror Story always knows exactly what kind of show it wants to be.
David Lebovitz is watching…
The League, FXX
Season 6, Episode 6: "Breast Awareness Month"
Wednesdays, 10PM EST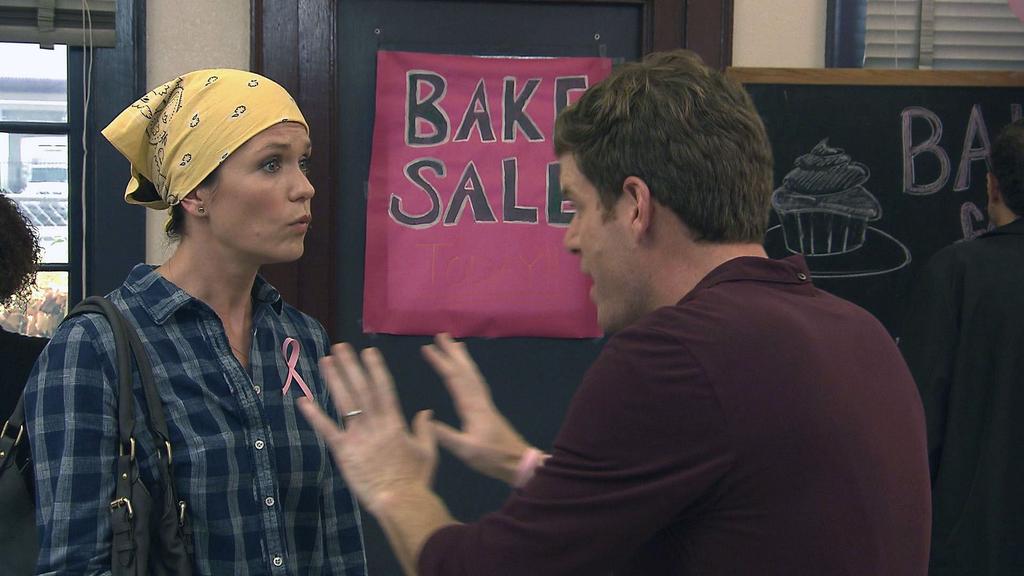 After two lackluster episodes in a row, The League came back into pure form on Wednesday with a hilariously cringeworthy half hour of television. Nothing is sacred on The League, and half the cast spends this episode doing something horrible, largely related to Breast Cancer Awareness Month. Jenny gets mistaken for a cancer patient when she goes out in public wearing a bandana, and she runs with it. Pete asks out an Asian girl, but fears being perceived as having an "Asian thing" because his last girlfriend was Asian too. Kevin has problems after misapplying his testosterone medication, but freaks out after finding out his urologist is gay. Taco starts a charity to raise breast awareness–not breast cancer awareness, but breast awareness–because "the past fifteen years have been great for asses" and he thinks it's time that breasts "get their due." As per usual, every character gets their comeuppance in a brutally appalling way. Even though Ruxin is absent from this particular episode, as he has been for much of the season, he left his stamp by texting Taco a list of zingers to throw into conversation as necessary.
This was a front-and-center episode for Jenny, and it's always great to be reminded she can be just as evil and underhanded as anyone else in the league. Taco's well-intentioned obliviousness is as charming as ever. Kevin's ongoing testosterone problem since winning the Sacko is one of the more subtly compelling parts of this season. It's rare to see a storyline go so long on The League, and this one has the potential for a long-term payoff. That said, it's still effective on an episode-by-episode basis, and Kevin's interaction with his urologist after trying not seem homophobic is uncomfortably brilliant.
One of The League's strengths is taking humor that should be bro-y, but makes the punchline the jerks causing the problems instead of the people they're mocking. That's on full display here. This episode was a solid reminder about what makes The League special: a solid core cast of oddly lovable but utterly horrible human beings who deserve every terrible thing that happens to them.
Episode Highlight: Taco lecturing on breast awareness to a cancer support group. "I love the bandanas, I am also a Guns N' Roses fan."
Haley Winters is Watching…
Are You The One?, MTV
Season 2, Episode 1: "One Too Many" 
Mondays 10PM EST 

I'm finding it very hard to write about the new season of Are You The One, especially because I sat down this weekend and quite literally rewatched the entirety of Season 1–all ten hours–in a single day. That first season of AYTO, as I have said before and will say again and again and again, is one of the single best events in recent television history, right up there with the last season of Breaking Bad and the fourth season of Dexter. Through a combination of genuinely smart reality show design, a fantastically interesting cast, and a whole bunch of fatefully unplanned love affairs, Are You The One quickly became one of the most compelling dramas in the world. What Survivor did for reality shows fourteen years ago, Are You The One has the potential to do again: truly change the game and push the genre to a new level.
Quick rundown of the basics of the show's premise: ten men and ten women, through an in-depth process of personality testing and professional matchmaking, are paired into their "perfect matches" and sent to live in an isolated tropical house. The catch is that none of them know who their matches are, and they have ten weeks and ten chances to correctly match themselves up with their partners. If they succeed, they all split a million dollars. If they do not get all 10 matches, they walk away empty handed. There's a lot more design and detail that dictates the rules of the game, but that's the overall gist of it.
Unfortunately, the producers over at MTV may have gotten a little ahead of themselves with the new season, introducing from the beginning a new element: The eleventh girl. This means that one man in the house has two perfect matches, and one woman is going to go home heartbroken and alone. Other than this being a pretty shitty move on the part of AYTO, it's mostly just stupid: they don't need to add new elements to the formula. This is not the bazillionth season of American Idol, and they don't need to "stir the pot" to get viewers excited. Not to mention that it's frustrating that the odd player out is a woman, as it opens doors to a lot of slut-shaming and catfighting on a show that has so far been wonderfully, openly sexual and sex-positive.
You'll get a full-blown essay on these from me in the next few weeks, I'm sure, but in the meantime be sure to at LEAST do yourself the favor of checking out the first season (it's available on Amazon Prime.)
Episode Highlight: On the first night in the house, John accidentally break's Bri's nose and sends her to the hospital. It's not funny, but also it's really funny.
That's what Deadshirt is watching this week, now it's your turn. What's been burning into your screens? Leave a comment below, or hit us up on Twitter or Facebook!