It's Wednesday, and that means new comics. Let Deadshirt steer your wallet in the right direction with reviews (and preview pages) of titles out today from Image, Dark Horse, IDW, BOOM! Studios, Archie, MonkeyBrain, Oni, Fantagraphics, Top Shelf, Action Lab, and more!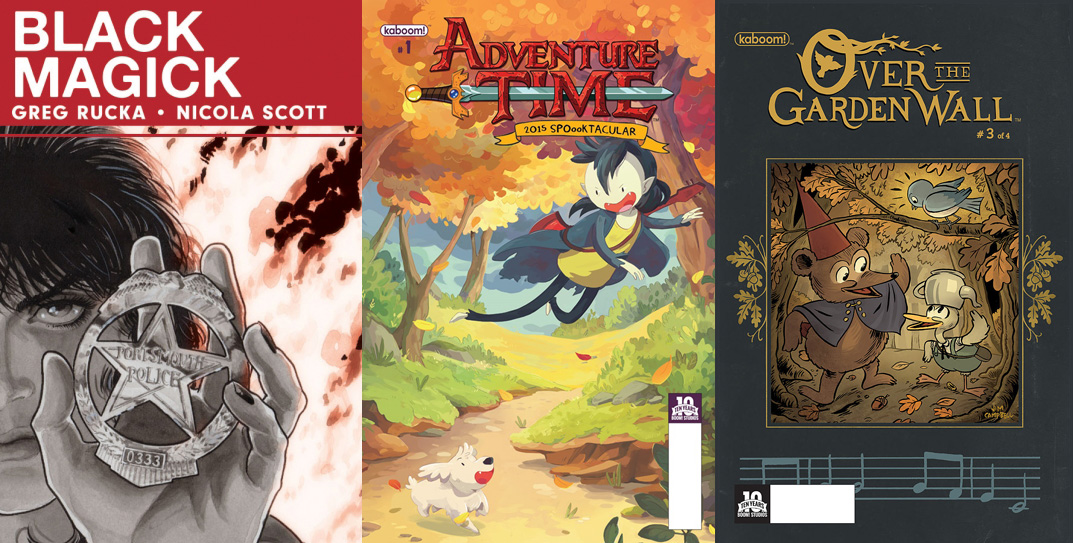 Black Magick #1
Written by Greg Rucka
Art by Nicola Scott
Color Assists by Chiara Arena
Lettered by Jodi Wynne
Book and logo designed by Eric Trautmann
Image Comics
$3.99
Let's be real: you probably already know whether or not you're going to like this book. At this point, writer Greg Rucka's brand is so consistent that you could likely guess what Black Magick is going to be like before you open to the first page. What we have here is a gritty but quirky story about a closed-off but extremely competent female detective (Detective Rowan Black) who harbors a dark secret (she's a witch). It features clever but not overly cute dialogue ("Right. Time to walk the walk."), and its subject matter is obviously well researched. It's Greg Rucka Central, over here.
If you're a fan of Rucka's (as I am), you're sold already. If you still need convincing, take a peek at any page and be won over by Nicola Scott and Chiara Arena's gorgeous artwork. If you're not familiar with Scott, you should get that way—she might be the best in the business when it comes to faces, both in terms of variety and expression. There are a number of extreme closeups in this issue, and each of them is gorgeous and distinctive. Scott is also a master of power poses for female characters. There's an obvious one—in which our heroine arrives at an active crime scene on a motorcycle looking like a damn action hero—but there's also a moment when Det. Black is standing in her underwear, at gunpoint, and looks badass as hell. What could be an exploitative panel is instead an "oh, shit" moment.
Scott and Arena have composed this book in a noirish black-and-white, with only a few pops of color here and there. Not only does this suit the dark detective story tone of the series, but it also allows for the sparingly-used magick to appear that much more magickal. The atmosphere is spooky, not scary per se, but the issue's end forecasts that some real horror may be forthcoming, and I'm very excited to see what kinds of terrors this art team can dream up. I think we're in for something really cool here, folks. Get in on the ground floor.
— Dylan Roth
(Click thumbnails to enlarge)
Adventure Time 2015 SpOooktacular #1
Written and Drawn by Hanna K
BOOM! Studios
$4.99
I haven't been super excited about Adventure Time in a while. The show remains charming, inventive, and very, very weird, but as we approach the seventh season, it's hard to feel the same levels of unbridled enthusiasm. Luckily my interest has spiked thanks to the upcoming Adventure Time miniseries Stakes, which will elaborate on Marceline the Vampire Queen's origins and how she actually became a vampire. If you're eagerly awaiting Stakes like I am, the 2015 SpOooktacular one-shot is a tasty appetizer served right before a feast.
Written and illustrated by Adventure Time storyboard artist Hanna K, SpOooktacular follows a pre-vamped Marceline as she roams across the devastated world, slaying vampires with her axe guitar and accompanied only by her dog, Schwabl. Abandoned by her father-figure Simon, Marceline is a drifting warrior in the mold of the Man with No Name or Max Rockatansky, though thankfully not as grim or taciturn. Marceline befriends a Newt-like girl named Twiggy (she even gets the "they mostly come out at night…mostly" line) whose blonde hair and foxlike hat paint her as a distant relative of Finn the Human, but Marceline's vampire-hunting days are far from over.
As far as Halloween comic specials go, the SpOooktacular doesn't aim to be scary, but it possesses a kind of apocalyptic melancholy that still feels very right for the season. Hanna K's art is lovely, eschewing the usual vampire settings (graveyards, Gothic castles) for a forest in the last sunny, crisp days of autumn. The comic also has plenty of humor, like Twiggy's jar of pickled garlic and the pack of tiny, pointy-eared vampires who are more adorable than frightening. The special's longer length gives the story room to breathe, featuring quiet moments that show the depth of Marceline's bond with her dog, as well as her bone-deep loneliness that lingers years after leaving Simon. Characterization is subtle and effective, showing us a younger Marceline who isn't yet the amoral, 1,000-year-old Vampire Queen who appears on Adventure Time. The Adventure Time 2015 SpOooktacular is an emotional story about a girl, her dog, and a whole bunch of vampires, and it's an illuminating chapter of Marceline's very, very long life.
— Kayleigh Hearn
(Click to enlarge thumbnails)
Over the Garden Wall #3
Written by Patrick McHale
Art by Jim Campbell and Danielle Burgos (colors)
Lettered by Warren Montgomery
BOOM! Studios
$3.99
The third issue of BOOM!'s Over the Garden Wall miniseries tends to be more of the same, which is a very, very good thing. Since the cartoon itself has a defined arc and ending, these comics tend to slot in throughout the story, functioning as untold adventures during Wirt, Greg and Beatrice's travels through the Unknown.
I'm not always a fan of infinitely stretching out a completed narrative, but OTGW is so charming in voice and unique in vision that I can't complain. It helps too that the comics are penned by series creator Patrick McHale, and they capture the tone of the show perfectly. This week, for example, is a light, funny misadventure involving some dancing animals, but it also provides a little more insight and shading into Beatrice's character. It's clear where in the arc this adventure takes place, too, so it's a nice way to round out some development in the leads' relationship. I know that the first issue involved some unused ideas from the cartoon, and whether this one does or doesn't, it feels very at home in the story.
Over the Garden Wall is maybe my favorite story from any medium that I experienced last year, and while a lot of its strength is in how fleeting it is, I'm always glad to go back to it in one form or another. The comic series has been a nice, seasonally appropriate refresher, and it builds on the cartoon without wearing it out.
— Joe Stando
(Click thumbnails to enlarge)
Be sure to let us know what you picked up this week in the comments below, on Twitter or on our Facebook Page!