It's Wednesday and that means new comics. Let Deadshirt steer your wallet in the right direction with reviews (with preview pages) of titles out today from Image, Dark Horse, IDW, Boom! Studios, Archie, MonkeyBrain, Oni, Fantagraphics, Top Shelf, Action Lab, and more!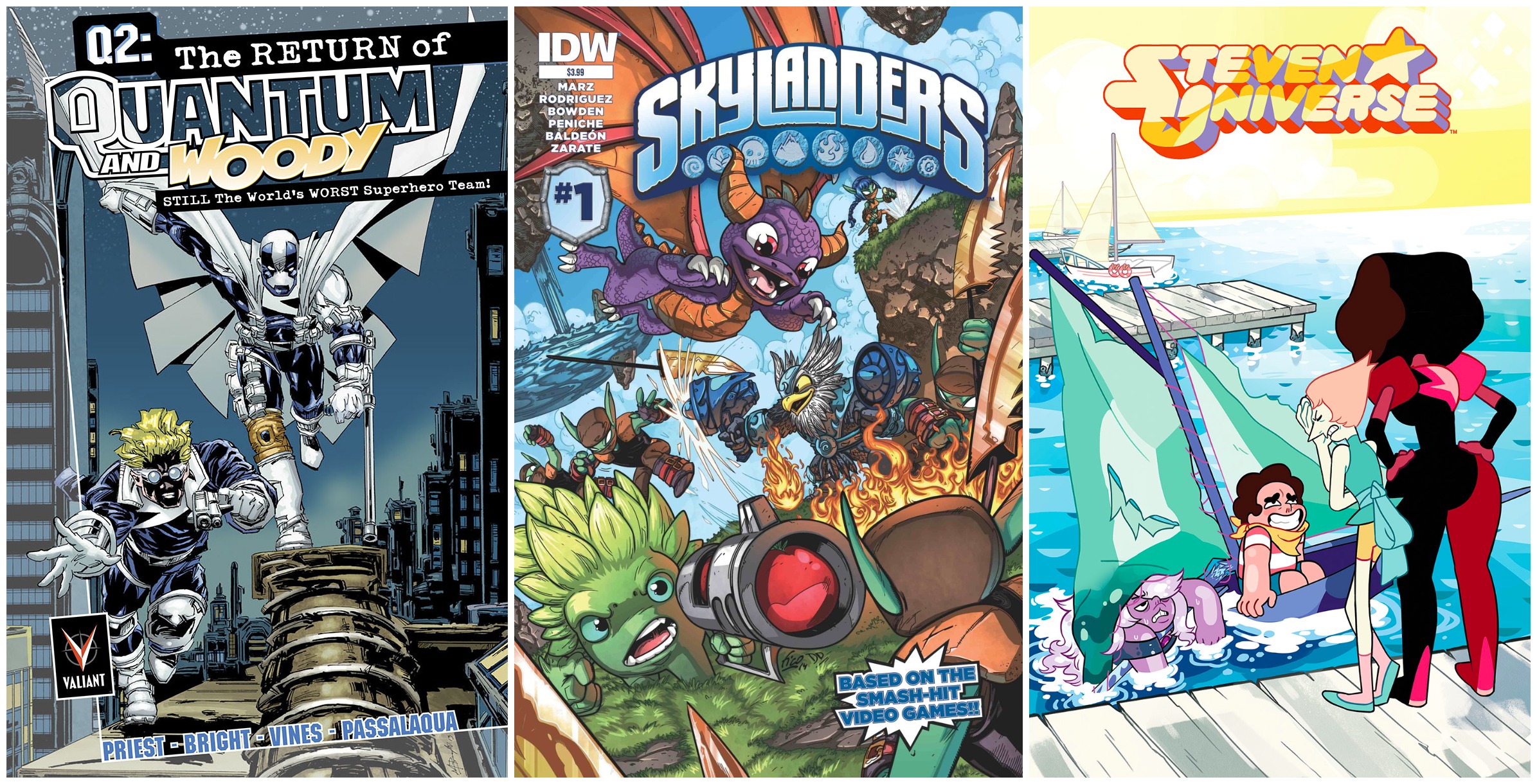 Steven Universe #3
Written by Jeremy Sorese
Art by Coleman Engle
BOOM! Studios
$3.99
In its third issue, Steven Universe expands its own universe a bit, with a story focused not on the magical title character but on his father, Greg Universe. Greg's history has been largely left untold so far in the animated series: he was once a one-man band, he loved—and lost—the magical Gem Warrior Rose Quartz, and now lives in a colorful van with his name painted on the side. A colder, more cynical series would paint Greg as an over-the-hill sad sack, but in Steven Universe Greg is a loving father who's passed on his love of music, and an eternal optimism, onto Steven. Issue #3 shows Greg left behind in Beach City while Steven goes on a mission to contain a magical stingray that feeds off sound waves—a stingray that happens to crash Greg's open mic night at the Big Donut, naturally.
Music is a tricky thing to portray in comics. Music, of course, needs sound, and comics are an inherently silent medium, so while the Steven Universe animated series has wonderful, catchy songs, it's hard to bring that over into a comic book adaptation. Sorese and Engle's issue mostly succeeds, conveying the meaning of Greg's songs through art and expression rather than sound. When musical notes play over a lovely image of Rose Quartz, we understand what Greg is feeling, even without music and lyrics. Steven Universe #3 is another solid, thoroughly enjoyable issue of a magical series.
– Kayleigh Hearn
(Click thumbnails to enlarge)
Skylanders #1
Written by Ron Marz & David A. Rodriguez
Main story: Art by Mike Bowden and Fernando Peniche (colors)
Backup story: Art by David Baldeon and Ander Zarate (colors)
Lettered by Deron Bennett
IDW
$3.99
Alright, full disclosure: I LOVE Skylanders. I got into the series last year, with the second game, and while I haven't had the free time and money to check out subsequent installments, it's a franchise I'm a big fan of. I bought a ton of the little figurines, I unlocked secret stuff, and I meticulously researched the characters' backstories.
I bring this up because my reaction to the Skylanders comic from IDW may not be the same as the average comic fan's. If you have affection for the series and the characters, you're probably going to love it. If you're coming in cold, though, it's a little busy, with lots of characters thrown at you and exposition about the universe put off until halfway through. The issue follows hero-in-his-own-mind Flynn as he escorts a batch of junior Skylanders to be trained. There are quite a few cameos from the games so far, but we don't linger on most characters enough to really get a sense of their personalities. The art is fine, the action is fine, but a story starring Spyro or some of the other A-list might have been a stronger opening.
On the other hand, the back-up story shines. It's more tightly focused, with a lot of dialogue given to fan-favorite Trigger Happy. Marz and Rodriguez nail the character's voice and mannerisms, and the story is full of cute homages to various superhero origins. It's a classic example of less being more, and I think the series has a lot of potential if they stick with stories more focused on characters with clear, entertaining personalities.
All in all, Skylanders isn't for everyone. It's a lot to jump into for a first issue, especially if you haven't played the games. But for fans, and young fans in particular, I can see it being a big hit. Everyone's got a favorite Skylander, and as long as they ration the cast enough that future stories aren't overstuffed and everyone's favorite gets a turn, I can see this book going places.
– Joe Stando
(Click thumbnails to enlarge)
Q2: The Return of Quantum and Woody #1
Written by Christopher Priest
Art by MD Bright, Dexter Vines (inks) and Allen Passalaqua (colors)
Lettered by Dave Lamphear
Valiant
$3.99
After being gone for close to fifteen years, Priest and Bright return to their creation, Quantum and Woody. Though the book was relaunched last year in new continuity as part of Valiant's recent rebirth as a publisher, this version is a continuation of the original series. Quantum and Woody have long since gone their own ways. Quantum is hunting an art thief when everything goes wrong and he's rescued by what seems to be multiple Woodys. Meanwhile, years in the past, bad things start to pop up when their younger selves find a dead body and a gun.
While not a lot happens in the issue, it's well worth having them back for the conversation. The dialog in this issue comes fast and furious, and it's much like watching two old friends catch up and (gratifyingly) try to pack a decade into a few pages. Where else can you find a quartet of twelve-year-olds having a deep discussion on Steinbeck while tramping through the woods?
Bright's artwork is a sight for sore eyes, too. His art feels like a throwback to the late 90s, but doesn't seem to be dated. It's a straightforward, Bronze Age style that isn't seen these days.
This issue only suffers from being the first issue of a longer story, and it feels like there's barely a hint of a plot here. I'm sure it's coming and this comic does cover a lot of ground for people who haven't read the previous run. It's great to have everyone back and I really hope they stick around for a while.
– Jason Urbanciz
(Click thumbnails to enlarge)
Be sure to let us know what you picked up this week in the comments below, on Twitter or on our Facebook Page!