Deadshirt Is Watching…is a weekly feature in which Deadshirt staff, contributors, and guests sound off on the television shows we're tuned into, from intense dramas to clever sitcoms to the most insane reality shows. This week: Saturday Night LIve, American Horror Story: Freakshow, Bob's Burgers, and 90 Day Fiance! 
Dominic Griffin is watching…
Saturday Night Live, NBC
Season 40, Episode 8
Saturdays, 11:30/10:30c

The nation's premiere variety show has a serious (and understandable) obsession with relevance, but often forgets that the main thing we turn to the show for is laughter. Eric Garner-related segments like the bland cold open and the mostly awkward "Weekend Update" asides fail to connect with any sort of resonance. No one on the current cast has the requisite gravitas (like John Stewart's recent Daily Show segment) to temper timely humor with the real human emotion it takes to soften the wounds of living in a deeply fucked America. Thankfully, the rest of James Franco's episode sticks to a kind of absurd frivolity that made it one of the more enjoyable outings in recent memory.
Franco's monologue was efficient and well executed. As a performer, he's the ideal SNL host: versatile, endearing, and willing to laugh at himself. This was particularly evident in the "Kid Mayor" sketch, where he absolutely thrived. Musical guest Nicki Minaj availed herself well as Beyonce, Kim Kardashian, and later, herself, forming some comedic Holy Trinity of Ass. It'd be nice to see Kate McKinnon get more to do, but if all she did every week was her Justin Bieber impression, I'd still DVR it.
Episode Highlight: The ex-porn stars turned commercial shill sketch is possibly the best recurring bit the current incarnation of the show has, and adding Seth Rogen and Franco to the mix was a delight.
Bonus Lowlight: Anyone else convinced Franco purposely tanked his Riff Raff impersonation to spite Jody Highroller after being called out for his wholesale theft of Riff's entire act for Spring Breakers?
Madie Coe is watching…
American Horror Story: Freakshow, FX 
Season 4, Episode 8 "Bloodbath"
Wednesdays, 10/9c

"Bloodbath" heats up the tension to a simmer after a string of lukewarm episodes. Ethel Darling confronts Elsa Mars at gunpoint over the death of Ma Petite, believing that Elsa has killed her, and calling her out the falseness of her entire act as "mother" of the freakshow. Bearded lady Ethel is only right about one of those things, but at least we finally say goodbye to Kathy Bates' atrocious accent after Ethel's body is discovered in a staged suicide scene. Jimmy Darling continues his downward spiral and fortune-teller/con artist Maggie (the insipid Poppy Montgomery) continues to whine about it. Dandy's mother finally seeks help from a therapist regarding her son's bloody pastime a little too late when her housekeeper's daughter (Gabourey Sidibe) comes to find her mother.
The whole episode reflects on the failures of parenthood and the freaks that their children become as a result. Jimmy Darling follows in his alcoholic mother's footsteps, the lizard girl Penny takes revenge on her father with help of other female freaks who are fed up with their own mistreatment, and Gloria Mott's over-indulgence and over-protection of Dandy have created a monster not even she can stop. This episode is definitely one of the better plot-driven episodes of this very uneven season.
Episode Highlight: Man-child psychopath Dandy takes the title of the episode quite literally, and the stark, disturbing image visually showcases what AHS does best: colorful Southern Gothic style with a twist of modern violent gratification.
David Lebovitz is watching…
Bob's Burgers, Fox
Season 5, Episode 6 "Father of the Bob"
Sundays, 9:30/8:30c
We live in a brave new world of television, where bottle episodes are A) now deliberate instead of the result of a low budget and, B) found in cartoons, normally bastions of world exploration. Long considered the "little sad stepchild" of television, writers are now using them to develop characters in ways they otherwise couldn't. "Father of the Bob" is a fine example of this, as both the kids and Bob find themselves in cramped environments and trying to best each other.
This episode finds the Belchers spending Christmas at Bob's father's restaurant. Bob never got along with his father, Bob Sr. (Bill Hader, the Patron Saint of Bob's Burgers Guest Voices), a stickler for routine who never deviated from the menu, while Bob Jr. wanted to express himself. Linda, ever the musically-inclined optimist, hopes for "Christmas Magic" to help them reconcile, and forces Bob and his father into the kitchen so they'll be forced to work together. Meanwhile, the kids realize they have no Christmas present for their dad and compete to see who can build the best with things in Bob Sr.'s basement.
Every character gets a moment to shine, even if they aren't the focal point. Each of the kids' well-intentioned yet devious natures are expressed through their gift attempts, Linda clueless optimism is on full display, and Bob's work ethic and oddly competitive nature is exercised against a new opponent. This episode demonstrates what we all love about Bob's Burgers: sparring, zany characters who, at the end of the day, work hard and love each other.
Episode Highlight: As much as I want to say Bob talking things over with his father during a country line dance, I gotta give it to Gene taking a relaxing bath in a box of beans. Actually, pretty much anything Gene did in this episode is a highlight.
Haley Winters is Watching…
90 Day Fiance, TLC
Season 2, Episode 8: "Going Once, Going Twice…Gone?"
Sundays 9/8c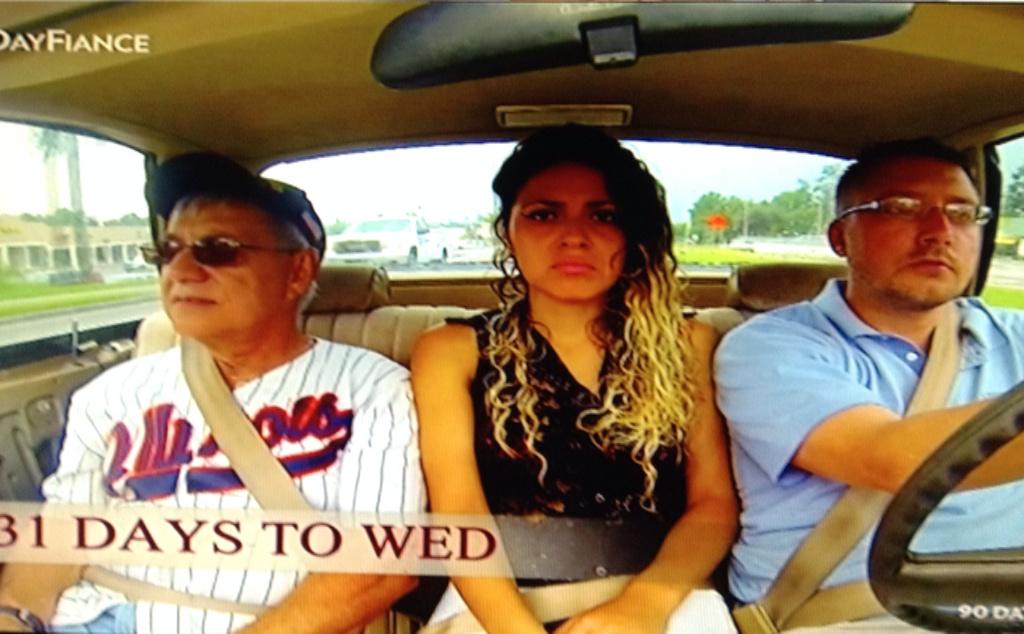 You guys, YOU GUYS. I just learned while googling this episode number that we are actually on SEASON TWO of 90 Day Fiancé. WHAT?! This is easily the greatest news I've heard all week, because I am telling you, I can NOT get enough of this shit. Clearly I need to go back and watch all of Season One now (sending me streaming links, yo).
Where to even begin with this week's episode? For those of you who don't watch the show (what you could possibly be doing that's more interesting, I have no clue), this TLC reality show follows six "real-life" long distance couples as they attempt to validate their K-1 visas, which stipulate that a foreigner engaged to an American can stay in America as long as the wedding occurs in ninety days. I put "real-life" in quotes not because it's scripted—it's actually surprisingly candid—but because a solid half of our players are just not living in the real world.
Take Jason and Cassia, for example. This week, thirty-eight-year-old mouthbreather Jason took twenty-three-year-old Brazilian hottie Cassia to work with him—and since Jason sells nudie mags and Pez dispensers on eBay for a living, that means going to a junk auction. Cassia was thrilled to be wedged between Jason and his Dad/roommate for the drive (see image above), but eventually lost her shit when Jason told her it'd only be "four more hours." Although Cassia has been a notorious pain throughout the season, this is the first time I've felt genuinely bad for her. Whatever her motivations are in this engagement, it's gotta suck to be dragged around and then totally ignored by the lamest guy ever.
And then we've got Danielle and Mohamed, and frankly, I don't even know what I can say about them. He's twenty-six and Tunisian, she's forty-one and an ugly crier. And even though Mohamed has always maintained that he finds Danielle "acceptable" as a bride, today—THE DAY OF THEIR WEDDING—he decides to see a lawyer, where he learns, apparently for the first time, that marriage involves legal and financial ties between the partners. Mohamed is not pleased with this development, as Danielle is up to her watery eyes in debt, but he agrees to the marriage anyway. MAYBE THEY CAN MAKE IT WORK!
Don't worry, it's not all shock and gore. Most of the other couples seem pretty sincerely in love. Danny made a semi-touching speech at his and Amy's rehearsal dinner about love crossing class and race boundaries, and even though Dad's still not on board with South African Amy, no punches were thrown. And Nicaraguan pop star Yamir finally works up the courage to put more than two sentences together and convince Chelsea to move with him to Chicago in a year. (He moved here from Nicaragua for her, the least she can do is move out of Galesburg.) Justin and Evelin are boring as always, but at least Brett and Daya's new apartment means they don't have to share a bed with children and dogs and those two middle-aged ladies that were living with them before! Progress!
Episode Highlight: Long Island Medium Theresa Caputo conducted a LIVE SÉANCE during the commerical breaks.
That's what we've been watching this week. What are you tuned into? Let us know in the comments, post on our Facebook page, or tweet us @DeadshirtDotNet!