Deadshirt Is Watching…is a weekly feature in which Deadshirt staff, contributors, and guests sound off on the television shows we're tuned into, from intense dramas to clever sitcoms to the most insane reality shows. This week: The Brink & The Jim Gaffigan Show!
Cameron DeOrdio is watching…
The Brink
Season 1, Episode 5: Swim, Shmuley, Swim
Sundays at 10:30pm ET on HBO

When I first saw previews for The Brink, I guessed that the Jack Black-driven comedy about a coup in Pakistan would be either very, very good or very, very bad, as Black brought his irreverent take to a potentially sensitive topic. But it turned out, for the first several episodes, I was wrong: the show was pretty middling.
Low-level State Department employee Alex Talbot (Black) is left as the only State representative outside a coup's blockade. He takes it upon himself—and upon his driver, Rafiq Massoud (Aasif Mandvi, The Daily Show)—to get control of the situation as he tries to get in touch with oversexed Secretary of State Walter Larson (Tim Robbins). Meanwhile, a B-plot about Navy pilots sent to intervene is also going on, though it often feels like out-of-place filler. While the show's dark conceit doesn't leave much room for Black's signature goofy antics, Mandvi maintains my interest in lean times through his side-eye snark. Additionally, Massoud and his family provide much-needed Pakistani voices (even if Mandvi himself is Indian) that so many shows like this would choose to simply gloss over. This week's Episode 5, "Swim, Schmuley, Swim," is where the Pakistanis affected by the coup, particularly Nayyara and her young students, begin to come into focus.
This is actually the episode where quite a bit of the show starts to come together. The Navy pilots' B-plot takes a bizarre but interesting turn that finds them hostages of an insufferable British couple who have captured them solely to have someone else to talk to. The coup that Talbot has fallen into engineering begins to make progress, just as the Secretary of State works to outmaneuver Secretary of Defense Pierce Gray (Geoff Pierson, Dexter). Of course, it all begins to fall apart by the end of the episode, creating some cliffhangers that'll likely have me back next week.
With that said, though, the show is so far unfulfilling. Even now, when the plot is moving faster and the cast seems to have found its comedic chemistry, it feels like not enough is being done with the concept. When I was sold a black comedy about a low-level State Department official in the middle of a coup, I was expecting to take home some acerbic takes on power and ineptitude, perhaps even some commentary on how an inoffensive, affable person can find themselves in charge of way more than they should be through the power of bureaucracy. But instead I got an OK-to-subpar comedy, buoyed quite a bit by an outstanding cast. Now that the plot seems to have found its legs, I'm willing to continue giving The Brink a shot, but for me, it's—pun gods forgive me—on the brink of being shelved.
Episode Highlight: Mandvi and Black's delivery and timing when Rafiq agrees to transport Nayya's students:
Rafiq, his tone starting nonchalant and quickly becoming annoyed: "Oh, you missed this. Yeah, Alex stopped by the house today and started another fucking coup."
Alex, immediately: "But it's a good coup!"
Read more from Cameron and follow him @StopGrammarTime!
Haley Winters is watching…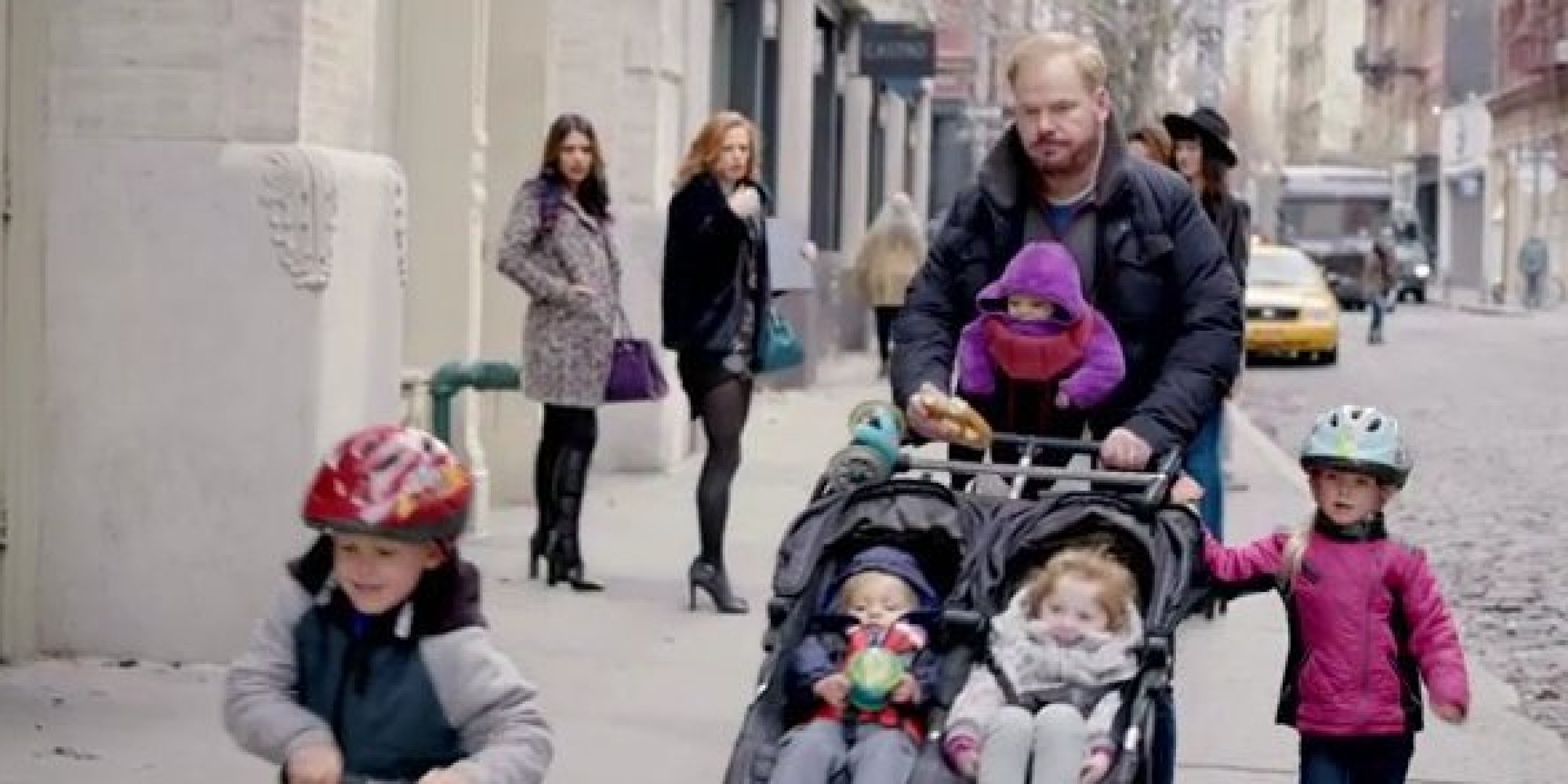 The Jim Gaffigan Show
Season 1, Episode 1: "Pilot"
Wednesdays at 10/9c on TV Land
The Jim Gaffigan Show has been under works for the better part of the last decade. Originally optioned for NBC and piloted (twice) by CBS, it's been a long road getting it to TV Land. And for the reigning king of Clean Comedy, TV Land might be the perfect place to set up shop. The Jim Gaffigan Show is rounded, mild-mannered fun. A fictionalized version of Jim's life, he is joined onscreen by Ashley Williams as his wife Jeannie (who, in real life, is the executive producer and general mastermind behind the project) and a gaggle of toddler actors as his five small children. The ensemble is balanced with by Adam Goldberg as Jim's unlikable best friend, and Michael Ian Black as Jeannie's acerbic gay ex.
Even though the pilot episode is plotted around the will-he-won't-he of Jim getting a vasectomy, there's nothing risque or even particularly unique about the material. It's hard not to see the show as a more polite version of Louie, if Louie had a healthier personal life, but Gaffigan and CK are black and white in their comedic sensibilities, and that's not the real issue. Ultimately, fans of Gaffigan will enjoy the show, but if you're looking for something with a little more kick, you're likely to find The Jim Gaffigan Show too bland.
Episode Highlight: Fred Armisen, in a cameo as a urologist, dials up the funny just by stepping into the room.
Read more from Haley and follow her @winterzzzzzzz!