Deadshirt Is Reading… is a weekly feature in which Deadshirt's staff, contributing writers, and friends-of-the-site offer their thoughts on Big Two cape titles, creator-owned books, webcomics and more.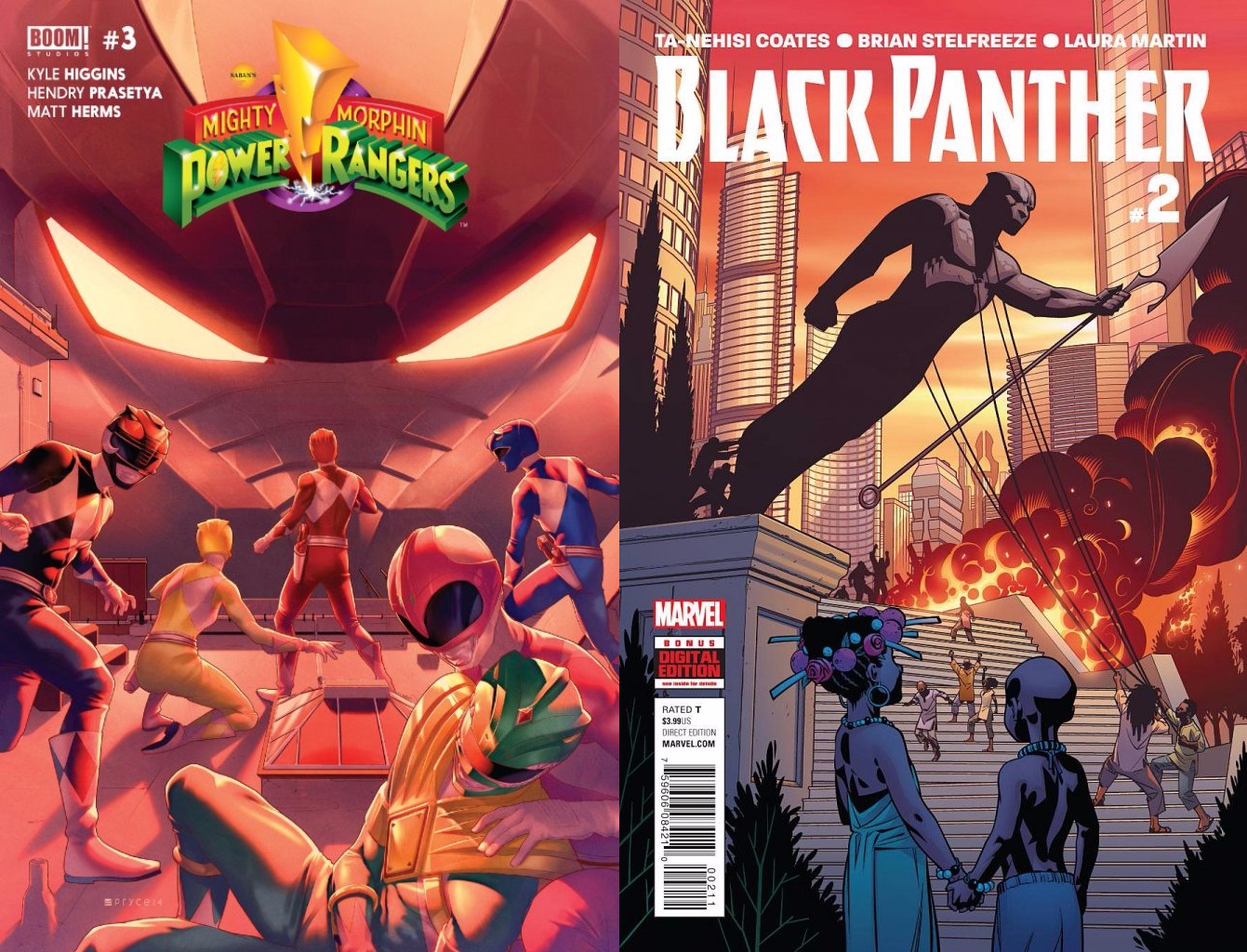 Sarah Register is reading…
Mighty Morphin Power Rangers #3
Written by Kyle Higgins
Illustrated by Hendry Prasetya
Color by Matt Herms
Letters by Ed Dukeshire
BOOM! Studios
"He's breaking. Losing control. And the best part is…they don't see it yet."
It sounds silly to say that I'm genuinely impressed with the storytelling in a Power Rangers comic, but I have immensely enjoyed this flagship arc. Every issue thus far has taken the time to develop each Ranger as an individual while also delivering at least one epic Zord fight. I'm sure part of this positive review is fueled by nostalgia, but it's a nice surprise to find this level of depth in what could have been a very cut and dry comic book concept.
Tommy continues to be plagued by Rita Repulsa, even after being fully accepted into the Ranger fold. There's some satisfyingly dark moments where Higgins plays with the idea of Rita being some kind of twisted mother figure and the trauma that could cause. Tommy's hallucinations and loss of control of his Dragonzord are pretty clear metaphors for what's going on in his life, but luckily, the Power Rangers (again, motivated as individuals) aren't going to let him lose himself.
I'd like to imagine that Hendry Prasetya was the kind of kid who drew robots and Gundams in the margins of his notebook in school and is now living a childhood dream, because the illustrations are on point. The Zords and ranger costumes all look extremely cool, and the shiny splashes of color provided by Matt Herms give everything a vibrant, fresh feel.
Everything that made Mighty Morphin Power Rangers great back in the day has aged well, thanks in part to this creative team breathing new life into the story.
Joe Stando is reading…
Black Panther #2
Written by Ta-Nehisi Coates
Art by Brian Stelfreeze and Laura Martin (colors)
Lettered by Joe Sabino
Marvel
"The majesty of kings lays in their mystique… not in their might."
Coates's run on Black Panther has been one of the most hyped books of the year, and I myself was pretty excited for it. The main draw, for me, was what I knew of Coates's reference points in terms of comics fandom. He likes Christopher Priest; I like Christopher Priest. He likes Jonathan Hickman; I like Jonathan Hickman. It seemed like a match made in heaven, especially with Stelfreeze's experienced hand on the art. But the first issue had some problems, and while this issue is better, they're still there.
I like the story Coates and Stelfreeze are telling, in broad strokes. The conflict between T'Challa's adherence to his personal codes of honor and duty and the political realities of Wakanda is well done, and it plays off the past couple cycles of Marvel continuity without asking for too much background. The Midnight Angels are an interesting counterpoint to T'Challa and compelling characters in their own right. I can summarize all day about the ideas I like in this book.
The issue is the execution. Coates's background is primarily as an essayist, and so far, it translates into a lot of long speeches and debates. There's not enough room for the story to breathe, even though Stelfreeze is trying his best. This issue is better than the first; there's a fight scene with an interior monologue overlaid that comes off well, and we know Ayo and Aneka well enough that their conversations mean something. But there's still a lot of new faces greeting each other with a ton of rhetoric and no clear role. It's not grating or idiosyncratic the way, say, Bendis might be, but overall it just adds up to a lot of skimming.
Black Panther is a work in progress. There's a lot of good stuff here, artistically and thematically. I just hope that it levels out a bit more soon so that it lives up to the hype.
Thanks for reading about what we're reading! We'll be back next week with a slew of suggestions from across the comics spectrum. In the meantime, what are you reading? Tell us in the comments section, on Twitter or on our Facebook Page!